Entering a More Active Pattern
Entering a More Active Pattern
I'm back! I apologize for the unannounced blogging hiatus – the truth is that I've been a tad burnt out lately. Interestingly, I don't think it has as much to do with work as much as my commute to and from work, which is a bike ride that has been completely dark for the past 2-3 months. I love winter for a variety of reasons – the storms, the snow, the skiing, the holiday season – but as I've grown older, I've began to appreciate the rebirth of spring significantly more, and our Pacific Northwest summers are sublime. Autumn is great too – the leaves have saved their most brilliant displays for last, and I love how drastic the day-to-day changes in weather can be.
During the doom-and-gloom of winter – I remember John Ruskin's famous words: "Sunshine is delicious, rain is refreshing, wind braces us up, snow is exhilarating; there is really no such thing as bad weather, only different kinds of good weather." If those aren't words to live by, I don't know what are.
---
With the exception of our wonderful White Christmas, December 2017 was rather uneventful, as was the first week of 2018. But things are changing.
In the wake of a weak system that came through last night, today will be the proverbial "day between systems." But while we should remain mostly dry in the lowlands, the mountains will continue to see precipitation throughout the day as moist, unstable northwesterly flow continues to pour onshore, albeit with a decreasing trend. Although snow levels are above most of the ski resorts right now, they will lower throughout the day to approximately 2,000 feet tonight.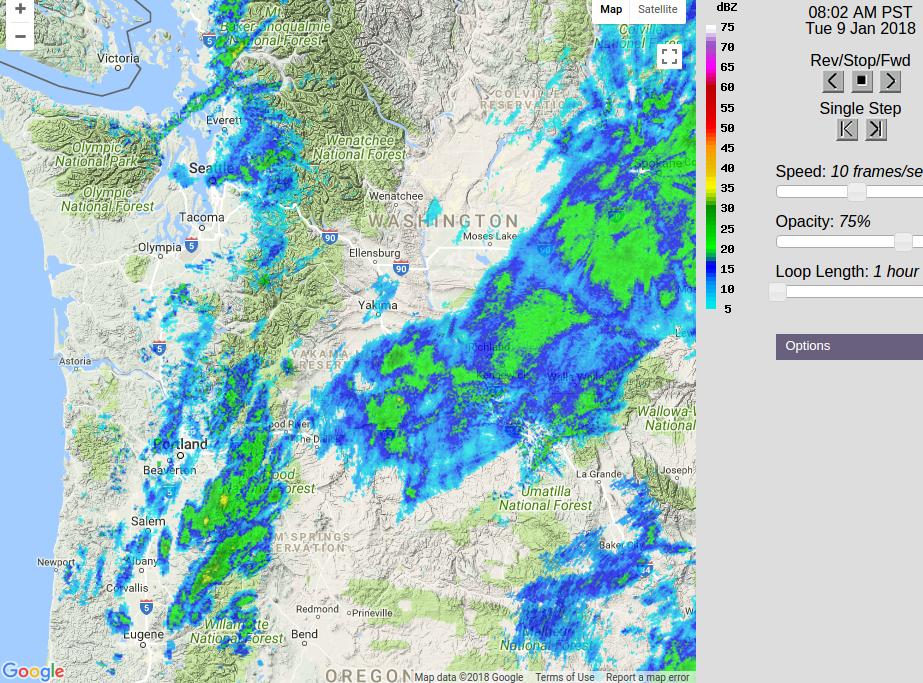 Speaking of snow – we need some help on our snowpack. While Washington is in OK shape, Oregon, Nevada, and California are in terrible shape, and southern Utah is downright dreadful. I haven't done a statistical analysis to back it up, but based on years of looking at these charts, it looks like there is a correlation, at least in the Cascades and Sierra Nevada, between latitude and year-to-year variability. Perhaps it is because locations further south are more prone to "feast or famine" years. For example, the 2016-2017 winter not only ended the California drought, it destroyed the Oroville Dam!
Another weak front comes through Wednesday, but Thursday is looking like the stormiest day since our November 13, 2017 windstorm nearly two months ago! This storm will not hold a candle to that windstorm and the newer model runs have weakened it substantially, but it will still give us blustery winds and heavy rain as it barrels into Vancouver Island.
Expect 2-4 inches of liquid-equivalent precipitation in the mountains and .5-1.5 inches of rain in the lowlands from this storm. Though we will undoubtedly see some sharp river rises (particularly along the rivers draining off the Olympics and Willapa Hills), river flooding is not expected at this time.
The mountains should pick up a significant amount of snow over the next 72-hours, particularly in Washington.
A ridge will move over the area Friday afternoon into the weekend, bringing an end to our stormy weather. But we'll likely enter a stormy pattern once again to begin next week. Alas, with southwesterly flow aloft, temperatures and snow levels will likely be slightly above normal, but we'll still make some substantial improvements in our snowpack, particularly in the higher elevations of Oregon and California. We'll revisit that "snow water equivalent" chart at the end of next week, and with any luck, some of those reds will be oranges or even yellows!
Have a great week,
Charlie